SIZING GUIDE
It is important you wear a mastectomy bra that is exactly the right size for you. This guide will help you to measure your bra size correctly. (It is easier with someone to assist!)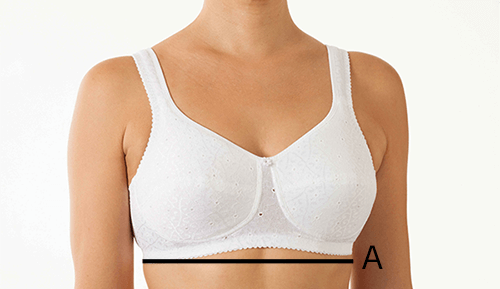 Measurement A: Your Mastectomy Bra Size
With a bra on, measure around your body directly under the bustline. If the measurement is an odd number, add 5 inches. If it is even, add 4 inches. This is your bra size.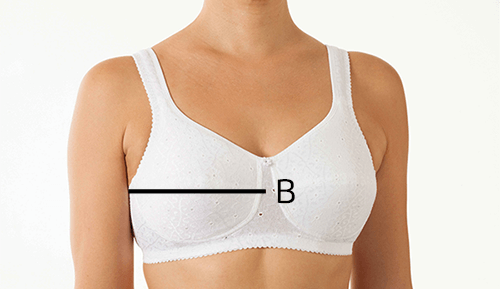 Measurement B: Your Cup Size
With a bra on, measure the fullest part of your breast from your breastbone across your nipple to the centre of your back, and double that measurement. Subtract the previous Measurement 'A' from this size. The resulting number equates to your cup size as follows:
1 inch difference = A Cup
2 inches difference = B Cup
3 inches difference = C Cup
4 inches difference = D Cup
5 inches difference = DD Cup and so on
Frequently asked questions...
Solution: The cup is too big, try a smaller cup size.
Solution: Go up a band size and down a cup size, e.g. 38C – try 40B. This will give more room around the body but same cup size.
Solution: The band size is too big. Go down a band size and up a cup size, e.g 40B – try 38C. This will tighten the band but give the same cup size.
Solution: The cup size is too small, keep the band size and go up a cup, e.g. 40B – try 40C.
Solution: Tighten straps for a tighter fit. May need to try wider straps for more support.
Solution: Loosen straps but could be the band is too big and taking the support instead of the underband. Try going down a band and up a cup size, e.g. 40B – try 38C.
CARE GUIDE
SILIMA® breast forms, or breast prostheses, are high-quality products – pleasantly silky and skin friendly. Perspiration can, however, impair the positive material properties of SILIMA® breast forms. So please make sure you understand the need to clean your breast form every day to ensure lasting elasticity and strength. SILIMA® breast protheses are so easy to care for that cleaning them takes barely a minute. Please note: the wafer thin polyurethane skin on the breast form, once it is damaged or punctured, cannot be repaired.
What you need to know about SILIMA® breast prostheses care and cleaning:
Wash with mild soap and rinse in warm water
Do not use solvents under any circumstances
Dab gently with a soft towel to dry
Do not place the form on a radiator, nor use a hair dryer
Use the original box to store or move the breast form
Keep sharp or pointed objects, such as brooches, away from the breast form
Be careful with pet claws – they might damage the gossamer-thin PU film
Observe the care information included with each breast form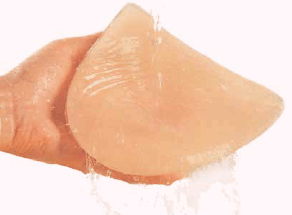 REQUEST A FREE CATALOGUE

DIARY REMINDER keep up to date with our periodical SPECIAL OFFERS by placing a note in your diary to re-visit our site.
Breast Cancer Care Information
Breast Cancer Care is a national organisation offering information and support to those women affected by breast cancer. Their services are free, confidential and accessible, and include :
a national helpline run by specialist breast care nurses and trained volunteers
information booklets, fact sheets and a website
volunteer services providing one-to-one emotional support for women with breast cancer and their partners
aftercare services including prosthesis fitting, telephone support groups for younger women and women with secondary breast cancer, and support services for those living with breast cancer
regional services providing local information, aftercare services and local volunteers in Scotland and the North of England
For further information contact :
Central Office Breast Cancer Care
Breast Cancer Care Scotland
Breast Cancer Care London & South
Breast Cancer Care North & Midlands
Other Useful Information from Lymphoedema Support Network